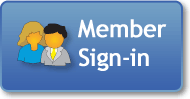 Themes
Seasons
Holidays
Celebrations
Themes


Next New Theme:

January 2015
Alligators



When Saving Time and Money Is Important and Quality Matters!
Ocean Crafts, Ocean Animals Preschool and Kindergarten Activities, Lessons, Games, and Printables
Ocean Preschool Activities and Ocean Crafts. Oceans are very important to us. They cover about 70 percent of the Earth's surface and contain about 97 percent of the Earth's water supply. They have the tallest mountains and the deepest valleys. Oceans affect weather and temperature, provide food, and it is estimated that between 70 and 80 percent of our oxygen is produced by marine plants. Your child with enjoy learning about the ocean, ocean animals, and the beach with our ocean-and-beach-inspired crafts, activities, emergent reader booklets, folder games, rhymes, songs and printables. Samples of our more than 80 ocean crafts, ocean preschool activities, games, and printables available in our KidsSoup Resource Library:
Free Ocean Crafts, Ocean Animals Preschool and Kindergarten Activities, and Printables

Ocean Animals
Printable Booklets

Crab and Beach
Crafts

A Day at the Beach
Activities and Games

Under the Sea
Story Booklet

Pearls Counting
Folder Game

Beach
Arts and Crafts

Ocean and Beach
Coloring Pages


The Litte Mermaid
Craft Project

Ocean and Beach
Word Wall


What Our Subscribers Say:
"I just wanted to let you know that this is one of the best sites that I have found! I am a teacher in a multi-needs classroom and use the activities on the KidsSoup resource library site for many of my units. There is something for everyone, of every skill level, and the activites are easily adaptable for each skill level as well. I love the colourful printables and always laminate them for future use. I have recommended this site to many of my other teacher friends, and have received many compliments on the art activities that we have done from the KidsSoup site. Standing ovation kidssoup.com! I am excited for upcoming topics!"
~Michelle Guerriero

Free Ocean Crafts, Ocean and Beach Activities, Rhymes, Printables, and Ocean Books
What is an ocean? What do you know about the ocean?
Language Activities
Show a large globe and ask children to identify the oceans. Also ask them how they know that they are oceans. Point out that most of our planet is covered by water and that this huge amount of water is called oceans and seas, and they are all joined together. The oceans and seas are salty. There are five oceans: Atlantic, Pacific, Indian, Arctic, and the Antarctic. Smaller areas of the oceans are called seas. The largest two seas are the Caribbean and the Mediterranean. Talk about the differences between oceans, lakes, and rivers.
Ocean facts: http://warrensburg.k12.mo.us/ocean/oceans.html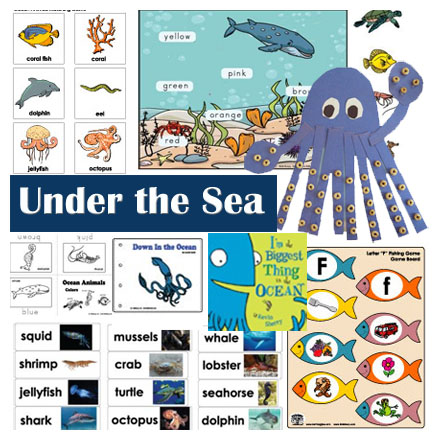 Ocean Rhymes
Five Oceans
We have five oceans that cover the earth, you see,
Can you name them all with me?
Atlantic, Pacific, Indian, Arctic, and Antarctic make five,
I can't wait to discover the ocean. I'm ready to dive!
Once I Caught a Fish Alive
One, two, three, four, five,
Once I caught a fish alive,
Six seven eight nine ten,
Then I let it go again.
Why did you let it go?
Because it bit my finger so,
Which finger did it bite?
The little finger on the right.
Ocean and Ocean Animals Books for Preschool and Kindergarten
| | | |
| --- | --- | --- |
| | | |
| Clumsy Crab | Over in the Ocean: In a Coral Reef | Way Down Deep in the Deep Blue Sea |
| | | |
| Somewhere in the Ocean | Tickly Octopus | Commotion in the Ocean |
| | | |
| I'm The Biggest Thing in the Ocean | Hooray for Fish! | A Swim Through the Sea |
| | | |
| Eye Wonder: Ocean | Simon & Schuster Children's Guide to Sea Creatures | Mister Seahorse |
| | | |
| A House for a Hermit Crab | Swimmy | The Pout-Pout Fish (Pout-Pout Fish Adventure) |
| | | |
| Flotsam | Secret Seahorse (Hide-And-Seek Books (Barefoot Books)) | Fish Eyes: A Book You Can Count On |
| | | |
| Smiley Shark | The Three Little Fish And The Big Bad Shark | Surprising Sharks: Read and Wonder |
Ocean Craft
Ocean Bottle
You need: plastic water or pop bottles, blue or green food coloring, baby oil or vegetable oil, tiny shells, and sparkles or gold glitter for sand.
Fill the water bottle 2/3 full with water and tint it with the food coloring and add oil. Fill bottle to about 1/2 inch of the rim. Add tiny shells, glitter, or other sea-related items. Glue the bottle shut and place tape around the top to seal the bottle to prevent the oily liquid from leaking out. When you tip the bottle it will look like rolling ocean waves. 
Why Is the Seawater Salty?
Most of the salt comes from rocks on land that got washed into the oceans by the rivers.
Salty Ocean Science Activity
Discuss with children that ocean water is salty. Have two plastic containers filled with water. Show children the salt and add a large amount of the salt to one of the containers. Let children stir until the salt is dissolved. Let the children smell and taste the difference by pouring into small paper cups and use craft sticks to taste. Ask the questions: "Do they taste the same? Why not? Which one tastes like ocean water? Next place a raw egg in each container. The egg in the unsalted water should sink and the one in the salted water should float. Ask children what they think made the egg float?

Other Great Ocean Online Activities and Links: