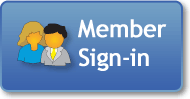 Themes
Seasons
Holidays
Celebrations
Themes

Next New Theme:

January 2015
Alligators

g

When Saving Time and Money Is Important and Quality Matters!
Pumpkin Preschool Activities, Pumpkin Crafts, and Jack-O-Lantern, Activities, Games, Lessons, and Printables
Pumpkin Preschool Activities and Pumpkin Crafts. Pumpkins are a wonderful introduction to the life cycle of many plants. They offer children an inside look at growth and development from seed to fruit. As an added bonus, children love the tradition of Jack-O-Lanterns whose range of facial expressions provides a natural lead-in to discussions about emotions and body language. Pumpkins come in all shapes and sizes. They are versatile and fun. Give your children a treat with this joyful harvest of pumpkin-themed learning activities and games. Samples of our more than 85 pumpkin preschool crafts, activities, games, and printables available in our KidsSoup Resource Library:

My Pumpkin Book
Craft and Lesson


Pumpkin Five
Senses Lesson

Pumpkin Patch
Letter P Worksheets

Pumpkins Crafts,
Rhymes, and Songs

Yum, Yum Pumpkin
Emergent Reader

The Little Orange
House Story

Pumpkin Life Cycle
Lesson and Felt Story

Jack-O-Lantern
Faces Booklet

Jack-O-Lantern
Matching Game

Pumpkin
Word Wall


What Our Subscribers Say:
"I just wanted to let you know how much I enjoy your KidsSoup Resource Library Website. I have found so many wonderful activities to enhance my classroom. Everything on your site is so well organized and creative. It makes my job of planning so much easier and gives me more time to focus on what I love to do—teach!"
~Terri Butler


Free Pumpkin Crafts, Pumpkin Activities, and Printables
Pumpkins are a symbol of fall and children love this orange fruit. From their bumpy outer shells to their pulpy insides, pumpkins offer numerous opportunities for investigating using all of the senses. They can be carved, cooked, touched, shaken, rolled, smelled, and tasted. Top the experience off with a yummy, unusual pumpkin treat.
Growing Pumpkins Preschool and Kindergarten Activities
If you have a garden let the children plant and grow their own pumpkins. Wenn the pumpkins are still small and green let them carve with a nail their name and some designs on the pumpkin. As the pumpkin grows the design and their name will get bigger.
Pumpkin Farm Field Trip
If possible take your children on a field trip to visit a pumpkin farm. Let them choose a pumpkin and create and carve a jack-o'lantern together.
Jack-O-Lantern Faces
Cut two pumpkin shapes out of orange craft paper. Make different noses, mouths, and eyes. Let children create some different facial features. Talk about the feelings of each jack-o'-lantern. Recite the rhyme:
Jack-O-Happy
(Original Author Unknown) Instruct children to make big circles around their heads using their arms.
This is Jack-O-Happy. (Children smile.)
This is Jack-O-Sad. (Children frown.)
This is Jack-O-Scared. (Children make frightened expression.)
This is Jack-O-Mad. (Children make angry expression.)
This is Jack-O-Silly. (Children make silly expression.)
This is Jack-O-Glad. (Children smile again.)
Jack-O-Lantern pizza
Spread pizza sauce on english muffin halves. Then sprinkle grated orange cheddar cheese on the top. Use black olive pieces to create jack-o'lantern pizzas. Place the muffin halves under the broiler until the cheese is melted.
Pumpkin Book: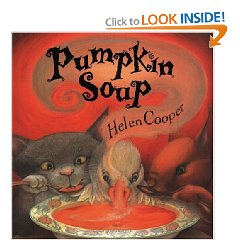 Book: Pumpkin Soup
From School Library Journal
PreSchool-Grade 2 Cooper serves up a well-rounded tale told with storyteller's cadences. Pudgy housemates Squirrel, Cat, and Duck team up for activities including quilt making and music concerts, until Duck wants to be Head Cook and stir the soup. The trio spats and Duck waddles off in a huff. As the remaining pair search pumpkin patch and dark forest for their pal, they rethink their position. Coziness returns when they find Duck back home and learn to share at least cooking roles. Readers will linger over each page, savoring the delicious illustrations. Rich autumn colors and enchanting details on large spreads and spot illustrations embellish characterizations and setting. Energetic language with fresh images keeps the story bouncing along. Some may be troubled by the lack of closure on Duck's whereabouts during his absence, but the final comic page makes for a satisfying ending. The grand finale, of course, is a recipe for pumpkin soup. Gay Lynn Van Vleck, Henrico County Library, Glen Allen, VA
Pumpkin Preschool Rhymes and Songs:
I'm a Little Pumpkin
~ adapted by E. Lassiter
Tune of "I'm a Little Teapot"
I'm a little pumpkin,
orange and round.
I grow on a vine from
a seed in the ground.
When I get all grown up,
give me a face.
Put me outside,
in a very safe place.
Mother Goose Rhyme: Peter, Peter Pumpkin Eater
Peter, Peter, pumpkin eater,
Had a wife but couldn't keep her,
Put her in a pumpkin shell,
And there he kept her very well.
Pumpkins
Pumpkin large
Pumpkin small
Pumpkin short
Pumpkin tall
Pumpkin orange
Pumpkin green
All are ready for Halloween!

Learn More about Pumpkins:
Pumpkin Patch - Everything You Ever Wanted To Know About Pumpkins!