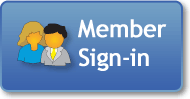 Themes
Seasons
Holidays
Celebrations
Themes

Next New Theme

January 2015
Alligators


When Saving Time and Money Is Important and Quality Matters!
Mitten Winter Crafts and Mitten Winter Preschool and Activities, Lessons, and Printables
Mitten Winter Preschool Activities and Mitten Winter Arts and Crafts. Jan Brett's wonderful adaption of the Ukrainian Folktale "The Mitten" makes a great base for a unit on mittens to use during the winter months with your preschool and kindergarten children. Our fun activities will help you to teach, practice and learn math and language arts concepts, and make fun mitten and winter inspired arts and craft projects. With our printable materials, preschool and kindergarten age children can be practicing and applying their skills in a meaningful thematic unit. Enjoy more than 50 mitten winter crafts, and mitten winter activities and printables in our KidsSoup Resource Library. Learn more about our KidsSoup membership.
What Our Subscribers Say:
"I just wanted to let you know how much I enjoy your KidsSoup Resource Library Website. I have found so many wonderful activities to enhance my classroom. Everything on your site is so well organized and creative. It makes my job of planning so much easier and gives me more time to focus on what I love to do—teach!"
~Terri Butler
Just a great BIG thanks for having great print outs and activities for pre-k children. All your things are great and I continually use them and I will continue to subscribe to your website as long as I teach preschool! You guys are AWESOME!
~Lori Armstrong


Free Mitten Winter Crafts, Activities and Printables
Reading / Language Arts
Read The Mitten by Jan Brett and talk about the book. Ask questions like: Which season is it in the story? How do you know it is winter? Why doesn't Nicki's grandmother want to make him white mittens? Why do you think the animals want to be inside his mitten? Where would the animals usually be during the winter? Which animals go inside the mitten? How does the mitten change throughout the story? Do you think this story could really have happened?
Activity: Let children put the animals (crawl in) in the mitten as you re-read or retell the story.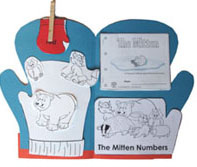 The Mitten
(Tune: The Farmer in the Dell)

The mitten on the ground,
The mitten on the ground,
Heigh-ho! It's cold outside,
The mitten on the ground.
The (mole) snuggles in,
The (mole) snuggles in,
Heigh-ho! It's cold outside,
The (mole) snuggles in.
(After the last animal, all pretend to sneeze and fall out of the mitten.)
Author unknown
Mittens
Mittens for the snow time
When the world is white.
Mittens for my two hands.
Mittens left and right.

Mittens with a thumb place.
Mittens warm and snug.
Mittens make me feel like
A bug inside a rug!
( Author unknown)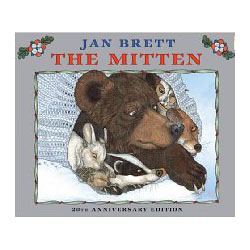 The Mitten 20th Anniversary Edition
Literacy Activity:
Have children re-tell The Mitten story and place animal picture cards into a mitten (The mitten can be real or a paper mitten.). You can print and use Jan Brett's mitten pattern and animal pictures below.
Estimation:
Have children estimate how many toy animals can fit into a mitten. Record their responses and then discuss.

Other Great Resources from Jan Bretts Website:
Animals and Mitten from Jan Brett