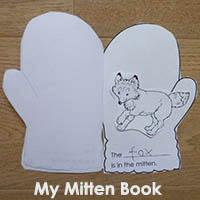 What you need:

My Mitten Book Pattern
Mitten Animal Printables von Jan Brett
Scissors
Crayons, markers, etc.
What you do:
Print Mitten Pattern and cut out four mitten pages. Have children cut out the mittens and decorate the covers using crayons, markers, etc.
Staple the eight mitten pages and the covers together.
Let children retell the story and glue the animals inside the mitten in sequencial order.
Last, let children write the name of the animal on each page.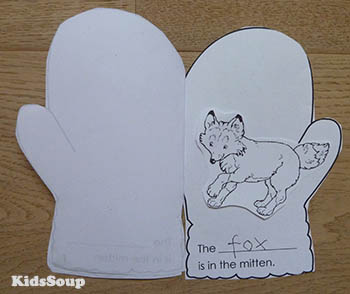 Together, read each page and sing the song:
The Mitten 
Author unknown
(Tune: The Farmer in the Dell)
The mole is in the mitten,
The mole is in the mitten.
Hi-ho it's cold in the snow.
The mole is in the mitten.
Continue with rabbit, hedgehog, owl, batcher, fox, bear, mouse.
View also: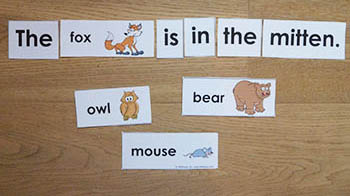 SaveSave
---
Kindergarten Common Core State Standards:
RL.K.7: With prompting and support, describe the relationship between illustrations and the story in which they appear (e.g., what moment in a story an illustration depicts).
RF.K.4: Read emergent-reader texts with purpose and understanding.
RF.K.1: Demonstrate understanding of the organization and basic features of print.