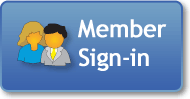 Themes
Seasons
Holidays
Celebrations
Themes

Next New Theme:

January 2015
Alligators


When Saving Time and Money Is Important and Quality Matters!
Bugs and Insects Crafts, Insects Preschool Activities and Kindergarten Lessons and Printables
NEW April 2011: Bugs and Insects Preschool Activities, insect crafts and games.
Bugs are fun to look for, observe, and identify. This theme provides multiple opportunities for children to develop language, math, and science skills while learning about bugs and insects. They can learn about the ladybug life cycle, find out which bugs are insects, practice patterning with bugs, and match a bug or insect to each letter of the alphabet. So, have everyone put on their bugologist hats and get out their magnifying glasses for a bug-friendly bug hunt and much more!  
Samples of our bugs and insects crafts, and insects preschool activities and resources available inside our KidsSoup Resource Library:
What Our Subscribers Say:
"Just had to tell you how much I love KidsSoup. It's the best money I've ever spent for my Library Storyhour program. Fantastic ideas, great graphics, and FUN crafts. Your site is THE BEST !

~~Karen,Library Storyhour
I just want to say I have been too cheap to join your website in the eight years I've been doing daycare. What was I thinking! I love this site! It's so easy and has perfect projects. THANKS A MILLION!

~~Chrissy, Daycare Teacher


Free Bugs and Insects Crafts, Activities, Rhymes, and Printables
Going on a Animal-Friendly Bug Hunt
Choose a safe place to look for bugs with children: a section of a park, part of a yard, or part of the school playground. Clip a piece of paper on to clipboards that children can use to write and draw on during the hunt. Attach a pencil with string to each clipboard. Place a set of magnifying glasses in a basket to take along on the hunt.
Tell children that they will be going on a bug hunt. Discuss with children where we can find bugs (under rocks, in the grass, under leaves, in the soil, etc.). Explain that it is a bug-friendly bug hunt which means that the bugs can be observed but not disturbed. Explain to children that touching the bugs can damage their delicate wings and body parts.
Note: Explain to children that animals that are soft-bodied and without legs are not usually considered to be bugs. Worms belong to a phylum called Annelida. Slugs and snails belong to the phylum Mollusca.
Ladybug, Ladybug
Ladybug, ladybug, (Move fingers.)
Let me see you crawl, (Crawl slowly on all fours.)
Hurry after those harmful bugs (Move quickly on all fours.)
But be careful, do not fall! (Fall over.)
Five Little Ladybugs
Five little Ladybugs climbing up a door,
One flew a way, and there were four.
Four little ladybugs sitting on a tree,
One flew a way, and there were three.
Three little ladybugs landed on a shoe,
One flew a way, and there were two.
Two little ladybugs looking for some fun,
One flew a way, and there was one.
One little ladybug sitting in the sun,
She flew away, and then there were none.

Ladybug Rhyme Printables
Bug Rocks

What you need:
Paint in red, black, yellow, and gray
Paintbrushes
A collection of smooth, round rocks
Googly eyes
Glue

What you do:
Let each child pick a rock to paint with a bug pattern. Have children paint one curved end of their rocks black to make the heads of their bugs. Then, have them paint the rest of their rocks to match a bug body pattern. Good choices are ladybugs (red with black spots), bees (black and yellow stripes), and roly-polys (segments of gray separated with black lines).

Once the paint has dried, let children glue googly eyes to the "head" parts of their rocks to finish their bugs. 
Bugs Rhymes:
Bugs Are Crawling
adapted by Jolanda Garcia
Bugs are crawling on the ground
And onto my shoe without a sound.
Up my shin and to my knee,
Creepy bugs are all over me!
Tickle, tickle . . . ooh, please don't bite!
Look for another hiding spot, all right?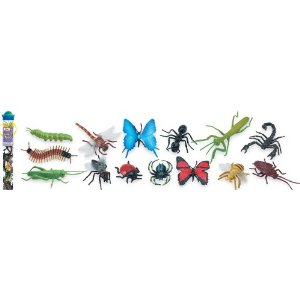 Insects All Around
Original Author Unknown
(Tune: Twinkle, Twinkle, Little Star)
Ladybugs and butterflies,
Buzzing bees up in the sky,
Teeny, tiny little ants,
Crawling up and down the plants,
Many insects can be found,
In the sky and on the ground.
Safari Ltd Insects Toob
Bugs and Insects Books:
| | | | | |
| --- | --- | --- | --- | --- |
| | | | | |
| The Best Book of Bugs | Beetle Bop | Bugs! Bugs! Bugs! | Eliza and the Dragonfly (Sharing Nature With Children Book) | The Icky Bug Alphabet Book (Jerry Pallotta's Alphabet Books) |
| | | | | |
| | | | | |