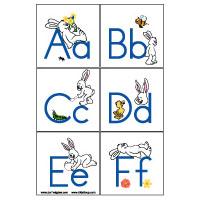 What you need:
Rabbit ABC cards printouts
Laminating sheets
Scissors
What you do:
Print ABC patterns, laminate for extra strength, and cut out.
Instructions:
Name the Letter
Place cards picture face down on the table. Let children pick one card. Ask children if they know the name of the letter shown on the card. Then make the sound of the letter together. Next, let children find and name the item on the card that starts with the letter.
ABC Order
Let children copy and place the picture in the ABC order.
---
Kindergarten Common Core State Standards:
RF.K.2: Demonstrate understanding of spoken words, syllables, and sounds (phonemes).
RF.K.1d: Recognize and name all upper- and lowercase letters of the alphabet.