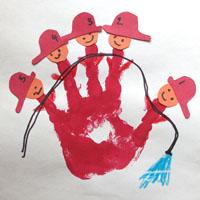 What you need:
Red construction paper
Orange construction paper
White construction paper
Fire hat printouts
Red paint
Paper plate
Scissors
Black, red, blue markers or crayons
What you do:
Place some red paint onto a paper plate. Let children make a handprint on white construction paper. Let dry. Print and trace firefighter hats on red craft paper and cut out. For the firefighters' heads, let children draw and cut five circles out of orange craft paper. Glue circles and firefighter hats to the top of each finger. Let children finish decorating their firefighters with markers. To finish the picture, draw a black hose with water on the picture.
Original KidsSoup Craft
Five Firefighters Finger Play
This firefighter rings the bell. (Point to thumb.)
This firefighter holds the hose so well. (Point to index finger.)
This firefighter slides down the pole. (Point to middle finger.)
This firefighter chops a hole. (Point to ring finger.)
This firefighter climbs higher and higher. (Point to pinky finger.)
And all the firefighters put out the fire!
---
Instructions: