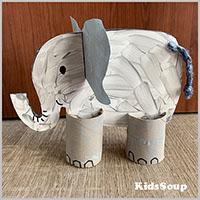 What you need:
Toilet paper roll
Gray paint
Scissors
Paintbrush
Small container
Black marker
Gray yarn
What you do:
Preparation:
Print and trace elephant pattern on to cardstock paper. Cut paper roll in half. 
Ask children what color is an elephant? Which two colors make gray? Provide children with some white and black paint and encourage them to make their own color gray.
Let children paint the elephant and the paper roll halves gray. Let dry. 
Cut out elephant and make a cut as shown in picture. 
With the black marker, draw eyes and a mouth and feet details to paper rolls. 
Make two cuts opposite each other in the paper rolls and attach legs to the elephant.
Ask children what kind of elephant they want to make. The African elephant has bigger ears than the Asian elephant. Let children choose their elephant ears, then slide the ears on the elephant.