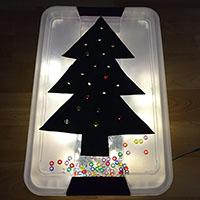 What you need:
Cardboard (from cardboard box)
Scissors
Green paint
Black marker
Phillips-Head screwdriver
Light box
Transparent Multicolor Pony Beads
---
Skills: Fine motor skills, colors, light exploration
---
What you do:
Draw a pine tree shape on the cardboard.
Paint the tree and cut out. 
With the screwdriver drill large holes all over the tree. 
Place the tree together with the transparent beads on the light box. Let children light the tree.
How to make a simple DIY light box.