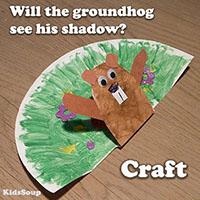 What you need:
Groundhog pattern
Lightweight paper plate
Green paint
Flower stickers or paint
Paintbrush
Black marker
2 small wiggly eyes
Brown and white craft paper
Scissors
Glue
What you do:
Print out groundhog pattern. Fold paper plate in half. On the fold, trace the groundhog shape as shown.
Cut around the shape as shown.
Let children color the half of the paper plate green and both sides of the groundhog shape brown. Decorate the green meadow with flowers. Let dry.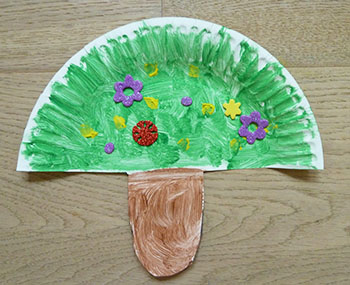 Cut out ears and arms from brown craft paper. Glue eyes, ears, teeth, and arms to the back as shown.
Fold the bottom of the groundhog 1/2 inch from the fold again to make a stand.
Let children take their groundhog outside to see if the groundhog can see his shadow. Let them experience making shadows under a lamp if the sun is not shining. 
SaveSave