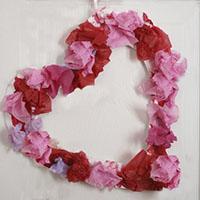 What you need:
Cardstock paper
Red, pink tissue paper
Glue
Plate
Scissors
Black marker
Hole punch
String
What you do:
Trace a heart shape on to card stock paper.
Cut tissue paper in to squares. Add glue to the plate.
Demonstrate to children how to crumple the issue paper slighty, then dip in to the glue and press on to the heart.
Repeat until the whole heart is covered. Make a hole to the heart and attach a string. 
SaveSave