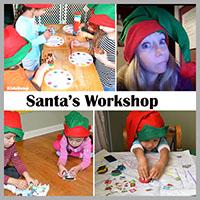 Book: Santa Claus and His Elves
What you do:
Let children pretend to be elves. Prepare different stations in your classroom and provide children with elf hats, aprons, and elf name tags. 
Provide plain packing paper, stamps, markers, crayons, stickers, paint, etc.  
Invite children to create their own colorful Chirstmas wrapping paper. Hang paper from a clothesline to dry.
Provide a variety of boxes, wrapping paper, tissue paper, glue sticks, ribbons, bows, tape, gift tags, and toys to wrap.
Tip! Pre-cut paper in to different sizes that fit around the boxes.
Let children fill the boxes with a toy and wrap and decorate the box.
Toy Building Station:
Provide Duplo and Legos, paper, pencils, containers.
Let children build different toys with the building blocks.
Tip! You can also make some examples of toys (structures) and let children duplicate them. 
Toys and Christmas Ornaments Painting Station
Provide toys, paintbrushes, and paint pallets.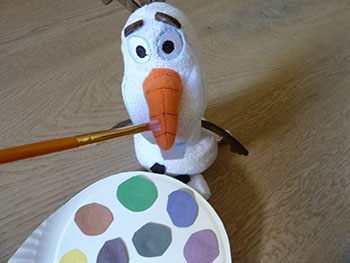 Let children use the paintbrush to pretend to paint the toys with the matching colors from the paint pallet.
Santa's Workshop Movement Story starring Ms. Ree and her children.