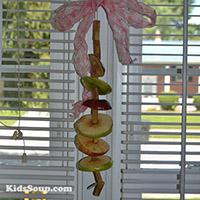 What you need:
Yarn
Lemon juice and water mixture
Bowl
Rigatoni pasta
Cinnamon powder
Pipe cleaner
Ribbon
What you do:
Slice apples into circles and let children place the slices in a lemon juice and water mixture for a few minutes.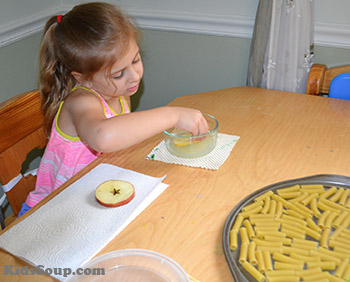 Moisten rigatoni pasta with water and then roll and coat the noodles in cinnamon. 

Make a pipe cleaner needle and alternately string the apples and noodles on the yarn.
Add a fabric bow to the top and dry near a sunny window.
Hang the apples in a dry, airy spot and let them dry for one to two weeks.
Better yet dry them in the oven. 
Place cooling racks inside baking sheets and arrange the apple hangers (without ribbon) on the racks.
Turn the oven to its lowest setting, which is usually between 140 F and 150 F. Prop the door of the oven open with the handle of a wooden spoon.
Put the baking sheets with the apple hangers in the oven (without ribbon). Let the apples dry until they are leathery to crisp (6 to 10 hours). 
Remove the trays from the oven and let the apples cool on the trays for 20 minutes.
If the apples are still soft, return to the oven for a bit longer.
They will look and smell great!