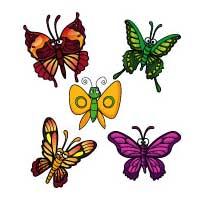 What you need:
Butterfly printable
Velcro dots or magnet strip
Felt or magnet board
Scissors
What you do:
1. Print the Butterfly printable and laminate for extra strength. Cut out each butterfly and add Velcro dot(s) or magnet strip(s) to X's on the backs.
2. Arrange the five butterflies in a flying group on the board. As the rhyme progresses, remove one butterfly at a time from the board.
3. Place the activity in a center and allow children to act out the felt rhyme individually or in pairs.
Five Little Butterflies Flying in the Air
(Version by Erin Lassiter)
Recited to the rhythm of "Five Little Monkeys Jumping On the Bed"
Five little butterflies flying in the air,
One flew off, we don't know where.
Four little butterflies flying so high,
One flew off, we don't know why.
Three little butterflies flying all around,
One flew off, she can't be found.
Two little butterflies, flying down low,
One flew off, where did he go?
One little butterfly, flying all day,
One flew off, she just couldn't stay.