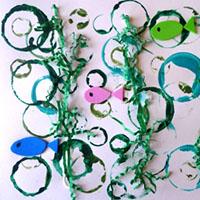 What you need:
Shades of green and blue paint
White construction paper
Small paper plates
Craft foam and shredded green paper
Scissors
Glue
Assortment of suction cups and suction cup hooks
---
Learning Goals: Art Expression, Fine Motor Skills
---
What you do:
Explain that some ocean animals, such as squid, octopus, and sea urchins, have suction cups located on parts of their bodies. These suction cups help them grasp on to objects like rocks or food. When a suction cup latches on to an object, air or water is pushed out of the cup and the outer edge forms a seal that keeps out any additional air or water. The pressure from the air or water outside the cup (which is trying to get in) is stronger than the pressure inside the cup. It pushes on the cup and causes a force called suction. Suction causes the cup to stick to the surface of the object it's attached to.
What you do:
Let children dip suction cup hooks of varying sizes in small plates of paint and make prints on white construction paper.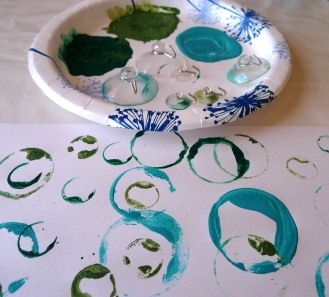 What shapes result and why? Do some of the suction cups stick? Why? How do you get stuck suction cups unstuck?
Let children turn their completed prints into ocean scenes by adding shredded green paper to make seaweed and fish formed from ovals and triangles cut from craft foam.